Company fined £80k after father-of-four loses lower arm
A Liverpool conveyor maintenance company has been fined after a mobile service engineer suffered serious injuries when his arm was dragged into a machine.
Daniel Hartshorn, an employee of Joloda Conveyor Services Ltd, was pulled into the machine while carrying out repairs at one of the firm's customers. He suffered severe crush injuries that led to him having his left arm amputated at the elbow.
Mr Hartshorn, who is originally from Blackburn but now lives in Preston, said he had "lost everything" since the incident and now relied on a cocktail of medication.
"I haven't been able to return to work since it happened," the 41-year-old said.
"I am in constant pain and the trauma of my injuries and the financial impact of not working has severely affected my mental health.
"It all happened so quickly.
"I thought I was going to die at one point."
Mr Hartshorn was repairing a conveyor at a premises in Preston on 10 February 2021.  Guards had been removed while the machine was still running and his arm was pulled into the machinery.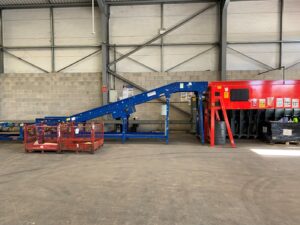 An investigation by the Health and Safety Executive (HSE) found that a similar incident had occurred a few months before, but the company had not sufficiently learnt from this or implemented any precautions. The investigation identified that failings in supervision and training meant that safe methods for working on the conveyor were not followed.
Mr Hartshorn, a father of four, said the only way he could describe what happened is like 'living in a nightmare'.
"If you were to dream this of a night, when you wake up, you'd call it a nightmare," he said.
"The worst thing is, I'm still having treatment two years down the line.
"I'm on so many different types of medication – the only way I can describe how I feel is it's like having a phantom hand.
"In some ways I've got used to the pain, but it's obviously still not nice."
Joloda Conveyor Services Limited, of De Havilland Drive, Speke, Liverpool, pleaded guilty to breaching Section 2 (1) of the Health and Safety at Work etc. Act 1974. The company was fined £80,000 and ordered to pay £5,854 in costs at Sefton Magistrates' Court on 22 March 2023.
HSE Inspector Matthew Shepherd said: "This incident could so easily have been avoided.
"Where employees work remotely companies should ensure they are robustly trained and monitored so that the work is undertaken safely.
"It is important that machines are properly isolated from power before being worked on."
Source HSE Website | 22.03.2023
For more HSE news including prosecutions visit the HSE website