Working safely during COVID-19
Your risk assessment for working safely during COVID-19 should be shared with your workforce.
Please see following notice which you should display in your workplace to show you have followed government guidance.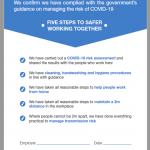 In addition, if possible, you should consider publishing the results on your website (all employers with over 50 workers are expected to do so).
Source: Gov.UK (page 6)