Steel fabrication company fined after employee injured by rotating drill
A steel fabrication company has been fined after an employee suffered injuries to his thumb from a rotating drill.
Mansfield Magistrates' Court heard that, on 23 July 2018, the employee of I & N Fabrication Ltd was operating a magnetic drill on the Vernon Street Industrial Estate, Mansfield when his glove became entangled and he suffered injuries to the thumb on his left hand.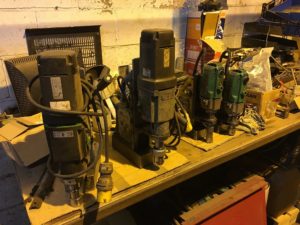 An investigation by the Health and Safety Executive (HSE) found that I & N Fabrication Ltd failed to prevent access to dangerous parts of machinery on the magnetic drills and did not maintain the guarding arrangements on the drills. The investigation also found that the company did not implement a suitable and sufficient safe system of work which prevented the wearing of gloves by employees, and the application of coolant during the magnetic drilling operations.
I & N Fabrication Limited of Vernon Street Industrial Estate, Shirebrook, Mansfield, Nottinghamshire pleaded guilty to a breach of Section 2(1) of the Health and Safety at Work etc Act 1974. It was fined £16,000 and ordered to pay costs of £2857.70.
Speaking after the hearing, HSE inspector Amandip Dhanda said "This incident could so easily have been avoided by simply carrying out correct control measures and safe working practices"
Source HSE 12 February 2020